Sutton Bank Walk Map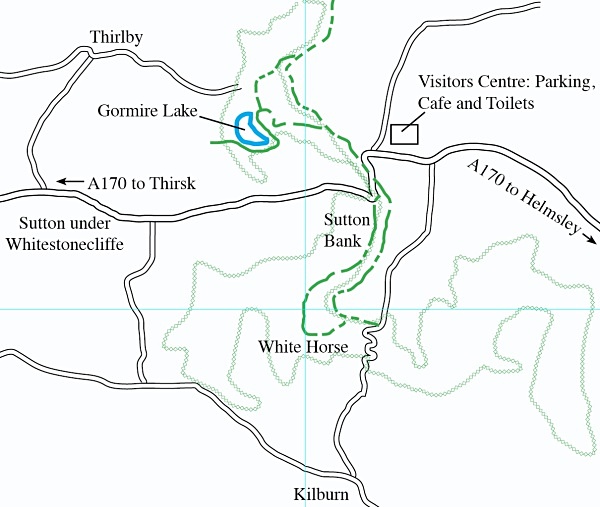 Sutton Bank is a remarkable geological feature where the land has slipped vertically, creating a high cliff that runs for about 2-3 miles in a north / south direction. It has created spectacular views in a west facing direction along its whole length. It is a popular walking spot in summer because if you just walk along the top of the cliff, then it is level with good paths all the way. It is much more varied than this, however, if you walk through the woodland down to the Kilburn White Horse or to Gormire lake. It is probably a 4 mile walk in either the north or south direction from the visitor's centre and fairly strenuous if you descend the cliff to the horse or the lake.
The quickest way from York would be to take the A19 north and turn onto the A170 just before Thirsk. It is a slightly longer but more interesting route to take the B1363 from the York ring road and turn onto the A170 before reaching Helmsley.
To see a detailed OS map, click on this map link (
http://www.streetmap.co.uk/map.srf?X=451500&Y=482500&A=Y&Z=115
) or use O.S map Landranger 100, Grid ref: SE515831. The location is about 50 minutes from York.