Warter - autumn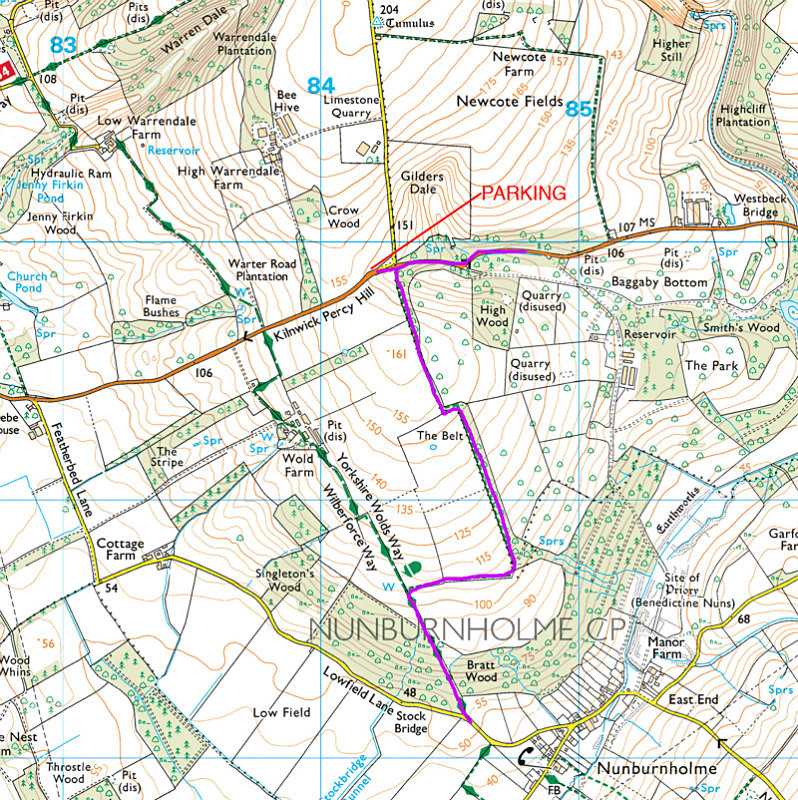 Warter is a small village just beyond Pocklington. From York, take the A1079 and turn off through Pocklington to about a mile past the left turn off for Kilnwick Percy. There is a small lay-by on the left just before a left turn (marked on the map in red). This small area is a hidden gem in the heart of the Yorkshire Wolds.

From this parking point there are two short walks:

Walk 1: If you prefer a woodland walk, then this walk is immediately more interesting. It is two long strips of ancient beech woodland which are beautiful in spring and spectacular in autumn. If you are there in autumn, I recommend first walking along the road for about half a mile before returning to the footpath sign that leads into the wood. Follow the path into the wood and it leads down into a small valley and then up and along two long strips of beech woodland. At the bottom of the second strip, turn right along the bottom of the field and at the end of the field either turn left at the stile down through Bratt wood to the village of Nunburnholme. Alternatively, turn right at the stile and walk back up to the road.

Walk 2 follows a square shape: Turn left and walk up the road as far as the triangulation point (you will see a triangle of trees on your right and a footpath sign). Walk down the path by the side of the field to the small wood. Turn right along the bottom of the field until you meet the road. Turn right on the road back to the original point. On this walk there are fine views over the wolds and several outstanding and photogenic trees. The final road along the bottom of the square is nothing short of breathtaking in autumn (see autumn images below).
| | |
| --- | --- |
| | |