Littlebeck to Falling Foss walk via the Hermitage Folly.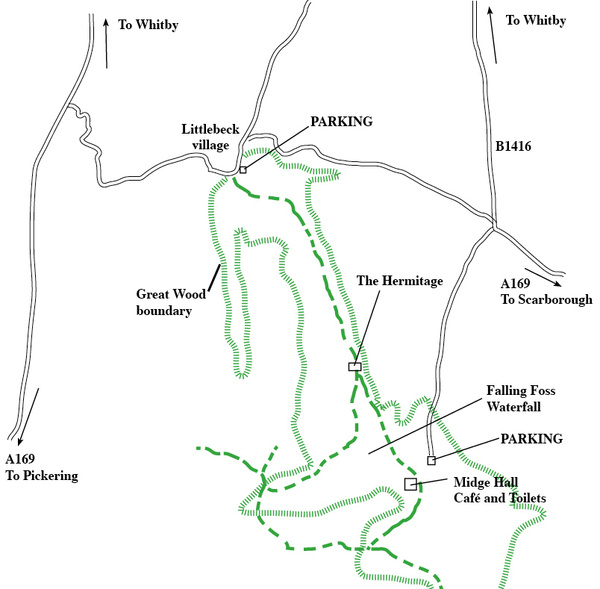 A short 3 mile walk through an incredibly beautiful ancient wooded valley with a waterfall, a cafe and the Hermitage folly; an amazing hollowed out sandstone building with 250 year old graffiti.
Just off the main A169 road near Whitby is the small hamlet of Littlebeck. There is a small car park at the start of the walk. 50 yards down the hill from the car park, a gate takes you straight into the wooded valley which follows the small river known as Littlebeck. When you reach the hermitage the path splits. Take the lower path, which follows the river and is more beautiful and varied. Be sure to stop and eat at Midge Hall where the food is very good. On leaving, turn left out of the front gate and this takes you via Falling Foss, and back on the higher path which is shorter and more gentle. This would be a 3 mile walk but you can lengthen this by taking a different path to the end of the wood. There are several paths and I recommend using the OS map OL27.
To see a detailed OS map, click on this link (
http://www.streetmap.co.uk/map.srf?X=488630&Y=503940&A=Y&Z=115
) or use OS map OL27, North York Moors Eastern Area. Grid ref: NZ889036. Situated about 75 minutes from York, 15 minutes from Whitby.
| | |
| --- | --- |
| | |