Kirkham Priory Walk Map.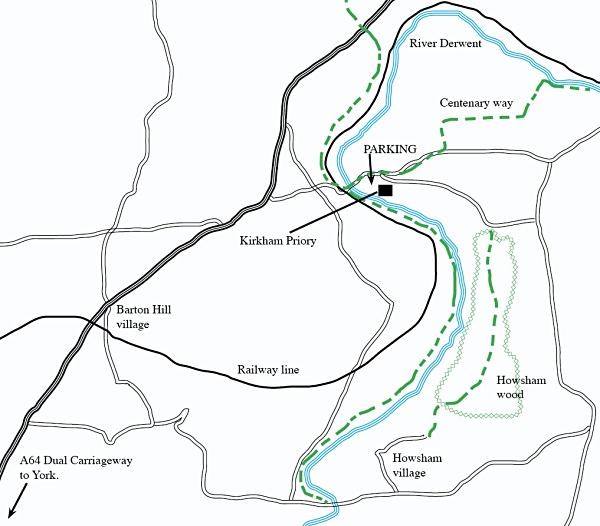 Kirkham Priory is an extensive ruin situated by the river Derwent in a picturesque valley just off the A64 Scarborough road. Its an interesting and varied walk photographically, incorporating the ruin, the river Derwent and both open fields and woodland. There are two weirs and also a beautiful old arched bridge which crosses the Derwent at this point. The images shown here were all taken on a dull winter's day with very little colour around. The river was in flood, but there was an interesting sky, and so this tends to appear in most of the images.
There are many footpaths but the one I've outlined would be about 6 or 7 miles long in total if you do the whole route.
From York, take the A64 towards Scarborough. Just past the left turning for Castle Howard, the dual carriageway climbs a steep hill and a right turning for Kirkham is immediately at the top of this hill. Its easy to overshoot and miss the turning.
To see a detailed OS map, click on this map link (
http://www.streetmap.co.uk/map.srf?X=473518&Y=464947&A=Y&Z=115
) or use O.S map Landranger 106, Grid ref: SE515831. The location is about 20 minutes from York.
| | |
| --- | --- |
| | |